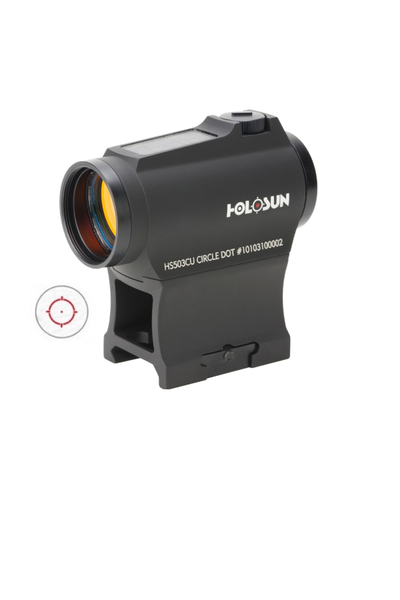 holosun SOLAR CIRCLE DOT SIGHT
---
The PARALOW HS503CU is a new compact red dot sightåÊwith the option of dot only or dot with circle reticle pattern. åÊEmploying new LED technology, the life time for one CR2032 battery can be up to 10,000 hours at a mid level dot intensity. åÊThe sight mayåÊbe installed on various firearms such as shotguns, pistols,åÊrifles, air rifles and crossbows.
Features
‰я Parallax free with unlimited eye relief.
‰я Protected windage and elevation turrets.
‰я Minimize vision obstruction with pushåÊbutton controls and streamlined housing design.
‰я Solar and battery power supplies.
‰я Switch between circle dot and red dot reticles.
‰я Sleep mode with awake on motion.
‰я Battery tray.
‰я With H/L riser mounts.
‰я CNC machining with T6061-T6 aluminum housing.
åÊ
Specifications
‰я 2MOA dot size with 65 MOA ring size.
‰я Adjustment value for each Click: 0.5 MOA
‰я Repeatable mounting accuracy: ‰ä_2MOA
‰я Brightness settings : 10 DL & 2 NV
åÊåÊåÊåÊ compatible
‰я Power supply•__DC3V
‰я Waterproof rating: IP67
åÊ
åÊ
åÊ
åÊåÊ
---