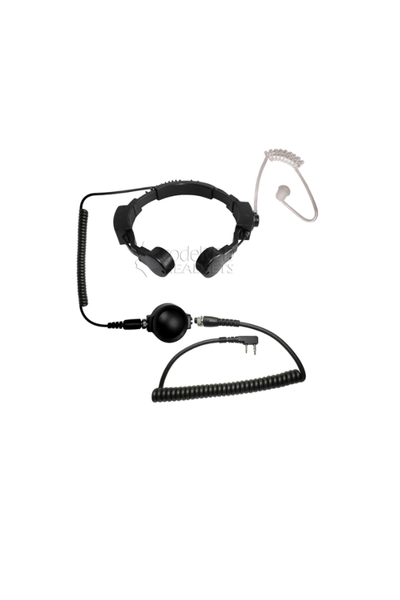 Code red throat mic - with push-to-talk & link to the radio
---
When communications are critical The Assault Tactical Throat Microphone by Code Red Headsets is your best bet. It allows the radio user to transmit in high noise areas and be heard clearly through throat vibrations. Used by law enforcement agencies and military personnel. 

- The dual throat transducers pick up the user's voice directly from the vibrations of the vocal chords.
- The large military style puck push-to-talk is easy to access with gloves.
- Versatile modular design allows the user to purchase extra cords to work with most radios.
- Substantial clothing clip.
- Adjustable Neckband with a surveillance style clear tube earpiece attached.
option 
CQB M Motorola 2 pins fit: Motorola, Bearcom, HYT, Hytera, Tekk
CQB M6 Motorola 1 pin fit: FRS 1 pin Motorola
CQB K 2pins Kenwood fit: Kenwood, Anytone, Baofeng, Puxing, Quansheng, Wouxun
CQB MID 2pins Midland fit: Midland