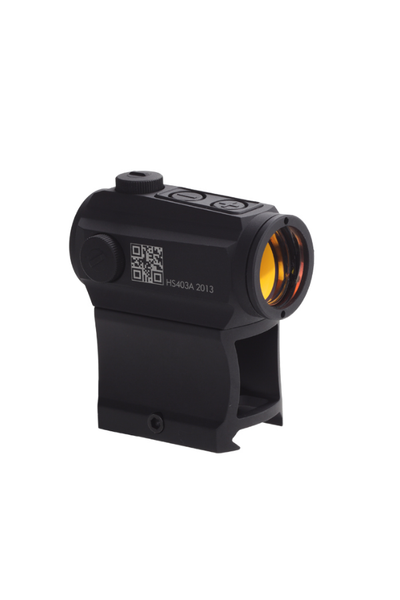 Holosun Red Dot Sight 403A
---
No more bump for the battery! The PARALOW HS403A Red Dot scope has no external battery housing. The battery is hidden in the base where it will rarely need to be changed.
This elegant design allows the scope to be simply a tube, allowing the maximum field of vision. Aiming with both eyes is now just a reflex and allows you to have maximum situational awareness.
This sight includes 50,000 hour battery life, is parallax free, and has a durable PEO/MAO finish.
Add to this an auto wake feature that automatically turns on the scope when it is moved and an adjustable 8 hour auto-shutoff. This scope comes with two mounts, a low profile and a AR height lower 1/3 mount.
Front Lens is angled to prevent glare
2 MOA dot size
Waterproof rating of IP67
Unlimited field of view
Parallax-free with unlimited eye relief
Unaffected by extreme weather conditions
Durable and reliable construction
Lowest profile emitter on the market
Push button brightness setting
Auto shutoff after 8 hours
Auto awake to medium setting with movement
Includes lower 1/3 AR height mount and low base
Weight: 94g (3.8 oz) with the low profile mount and the battery
Working temperature: -10 å¡C to 50 å¡C (14 å¡F to 122 å¡F)
Storage temperature: -40 å¡C to 70 å¡C (-40å¡F to 158å¡F)
Objective diameter: 20 mm (glass), 28 mm (ring)
Limited Lifetime Warranty