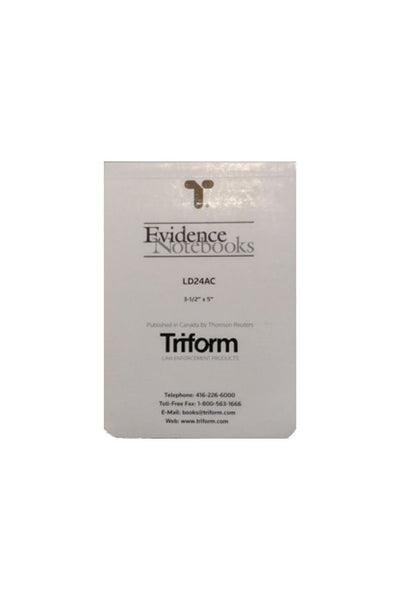 Triform Notebook
Triform Notebook
Triform Notebook Features
1. 200 writing pages, with every page numbered, 1 to 200, offering tighter control and exact page referencing. This better system replaces folio numbering of one side only, 1 to 100.
2. All pages have horizontal rulings with a vertical Day / Time / Key Word column at the left.
3. The pages will not fall out because of the Sewn Construction Binding.
4. The pages lie flat for easier writing because of the Sewn Construction Binding.
5. Your written notes stand out because of faint blue tint ink colour of ruled lines.
6. Contents of text pages are up-dated. Triform Notebooks never stand still, they grown to meet your needs and requirements.
Police Evidence:
LD24AC All Canada
Caractéristiques du bloc-notes Triform
200 pages d'écriture, avec chaque page numérotée, de 1 à 200, offrant un contrôle plus serré et un référencement exact des pages. Ce meilleur système remplace la numérotation des folio d'un seul côté, de 1 à 100.

Toutes les pages ont des règles horizontales avec une colonne verticale Jour / Heure / Mot clé à gauche.

Les pages ne tomberont pas à cause de la reliure de construction cousue.

Les pages reposent à plat pour faciliter l'écriture grâce à la reliure de construction cousue.

Vos notes écrites se démarquent en raison de la faible teinte bleue de l'encre des lignes réglées.

Le contenu des pages de texte est mis à jour. Les blocs-notes Triform ne s'arrêtent jamais, ils ont grandi pour répondre à vos besoins et exigences.
Preuve policière:
LD24AC Tout le Canada